Developers
Developers use Frontegg™ to maximize speed, maintain consistency, and minimize testing cycles. With access to a flexible suite of SaaS features–from frontend to backend–Frontegg's™ features quickly integrate into existing multi-tenant web applications.
Core values
Focus on core differentiation
As a developer, you want to focus on doing challenging tasks instead of dealing with business-agnostic productization features. With Frontegg you can focus on developing your core business. Invent differentiation, integrate parity.
Access and deploy a full suite of baseline and advanced SaaS features.
Multi-tenant at core
Our approach is simple, Frontegg will become a Micro-frontend on the front, and a Microservice on the back. We don't reinvent the wheel, but rather utilize the state-of-the-art industry standards.
Frontegg features are multi-tenant at core, each user is exposed to the data they are entitled to access, according to their permissions and customer (tenant) association.
Full lifecycle development support--including staging & production
Not only a feature base. Frontegg provides resources for developers including information for best SaaS practices. Utilize our SaaS Solution Architects for planning your infrastructure to scale and thrive.
Quick Integration--just a few lines of code
SaaS milestone development can take months including product planning, development, multiple daily builds, feature debugging, feature integration, code stabilization, and monitoring. A single full-stack developer can complete a full Frontegg end-to-end feature integration in just a few hours and proceed to handle the core "techy stuff", as is needed.
All features are customizable via CSS and accessible via REST APIs.
Full documentation
Frontegg provides full documentation with API simulations and guides on how to integrate our features as quickly as possible in your existing SaaS application as well as how to customize and monitor them, including video walkthroughs.
Production-level trial for free--no need for credit card
In a short amount of time, you can have your first frontegg feature installed and running for free. Fall in love. Pay later.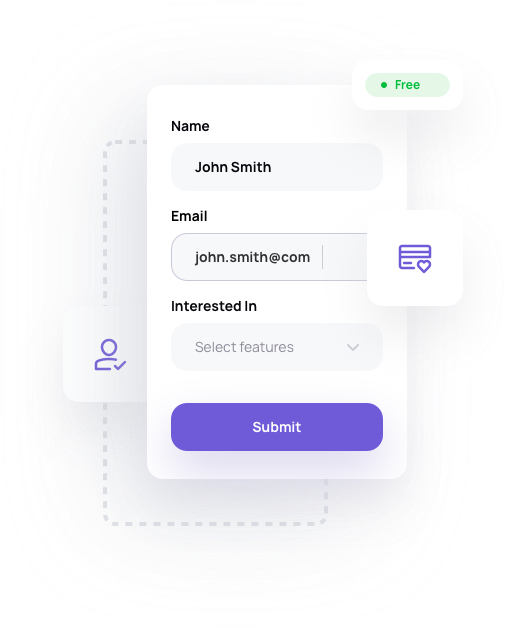 Ready to Get Started?
Create a free account to see how it works. We don't charge until your customers onboard.
BE
ENTERPRISE READY
Stay up to date with all the news, products, and updates you need to provide your clients with the ultimate SaaS experience.
By subscribing , I agree to Frontegg's Terms of Service and Privacy Policy.
I further agree that Frontegg may contact me with marketing communications. You may unsubscribe at any time.