Notification Center
Notify your customers on every important event over any of their configured channels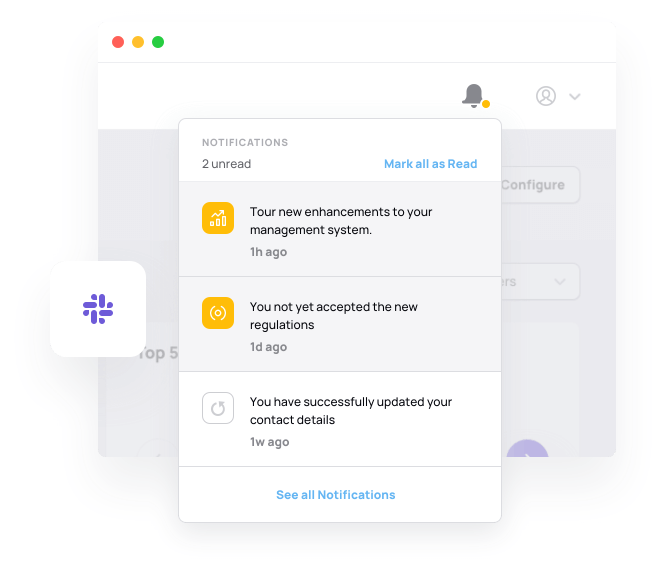 CATEGORY
Account
Visibility
Component description
Allow your customers to receieve the right amount of product communication in their preferred channels. Offer a flexible, multi-channel notifications center that delivers important event insights on a schedule, to specific targets and to pre-set subgroups.
Frontegg™ Notification Center plugs directly into your application through a simple SDK. Your customers can customize who receives which notifications and how--via their preferred channel, including SMS, Slack and email.
The in-app experience can be fully customizable and adjusted to the look and feel of your app.
Integration of this feature within your SaaS app can be completed in under an hour.
Read more
Typical costs during own
implementation
If you were to develop your own custom reporting feature,
it would typically involve:
Development costs

Maintenance costs

Cloud and I/S costs
In-app integration performed in minutes
Frontend native component and REST API or SDK on the backend.
Typically deployed in ~1 day (including all channel support)
import React from 'react';

function NotificationsWrapper() {
  const providerOptions = {
    ...
  }
  return (
    <div>
      <Frontegg.ContextProvider value={providerOptions}>
        <Frontegg.Notifications />
      </Frontegg.ContextProvider>
    </div>
  );
}

export default NotificationsWrapper;
import { NotificationsClient } from '@frontegg/client'


const notificationsClient = new NotificationsClient();
await notificationsClient.init('YOUR-CLIENT-ID',
'YOUR-API-KEY');

const notification = {
  title: 'Notification Title',
  body: 'Notification Body',
  severity: 'info',
  channels: {
    webpush: true / false 
  }
}

await notificationsClient.sendToUser(userId, tenantId, notification)