Secure Access Experience
Secure your end-users access experience through granular, multi-tenant authentication and authorization controls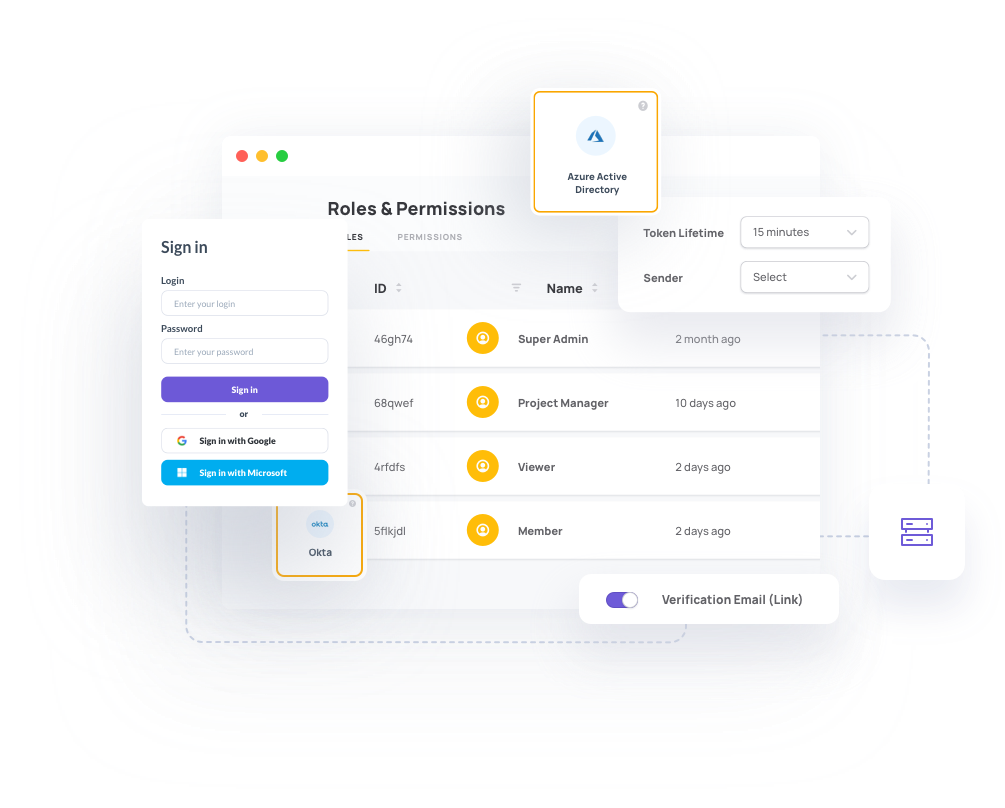 SaaS Capabilities Included
Authentication

Multi-method, secure authentication for your multi-tenant users

SAML & SSO

Self-service identity controls for enterprise-level authentication

Roles & Permissions

Granular user, permission, and roles management with full end-user control

Audit Logs

In-depth, scalable, and compliant visibility on all account activity

API management

Permission-scoped external API management and end-point enforcement controls

Compliance Controls

Pill and GDPR data controls with customer configuration and vendor enforcement
Secure Access Experience Description
Enable your customers with the secure access experience they have always imagined getting from a SaaS product. Enable authentication, team management, roles and permissions assignment, API management and much more.
Comply with enterprise-grade requirements for privacy and security, while reducing the overhead of supporting specific customer demands over Identity-Provider vendor integrations and specific organizational hierarchies.
Frontegg's secure access solution consists of a combination of in-app controls, back-office management capabilities, and SDK form enforcement APIs. Integration is seamless and utilization is immediate.
Read more
Ready to Get Started
Secure your end-users access experience through granular, multi-tenant authentication and authorization controls
BE
ENTERPRISE READY
Stay up to date with all the news, products, and updates you need to provide your clients with the ultimate SaaS experience.
By subscribing , I agree to Frontegg's Terms of Service and Privacy Policy.
I further agree that Frontegg may contact me with marketing communications. You may unsubscribe at any time.