SaaS applications need to be powered with strong onboarding experiences and multiple self-served features, but billing and subscription models are key when it comes to establishing a sustainable growth trajectory. Let's get familiar with the top SaaS billing and subscription models you can use today for your application.
Before getting started, you need to create a basic strategy. Firstly, your pricing model should look to strike a balance between the value you are providing and the revenue you are aiming for. Secondly, the strategy should take your growth plans into consideration. Last but not the least, you should have the flexibility to react to market trends and geo-political developments like the war in Ukraine.
Top 5 SaaS Billing and Subscription Models
Without further ado, let's jump into it and take a closer look at the top billing and subscription models that are being used by SaaS businesses today.
1. Flat-Rate Pricing
Flat-rate pricing is the most straightforward and direct way to offer your SaaS solution to the masses. You are essentially offering all features and options for one single price, with the billing can be done monthly or annually. However, more and more SaaS businesses are now moving away from this billing model (think Netflix) as it's simply more suited for retail, online publishing, or similar offerings.
This practice still exists in SaaS. Business management software vendor Basecamp embraced the flat-rate pricing model from day one and is still getting a steady influx of customers without making any strategic changes.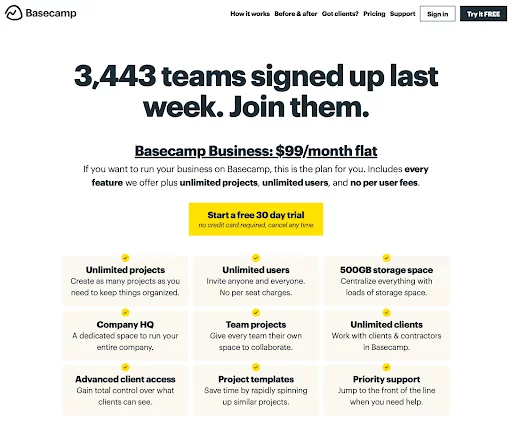 Pros: Simple to Understand, Easier for Sales and Marketing Teams
Cons: Less Growth Potential, Hard to Segment Customers, Average Retention
2. Usage-Based Pricing
Usage-based pricing models are soon becoming the default option for SaaS businesses that are catering to a diversified customer base. For example, if you have both B2B and B2C customers, the features being used will vary significantly. Usage-based subscription models allow customers to use and pay only for the features they are using, something that simply isn't possible with flat-rate pricing.
This is a consumption-based pricing model that charges customers per use. Take Twilio for example. This SMS service provider basically changes its customers based only on the amount of text or picture messages they send.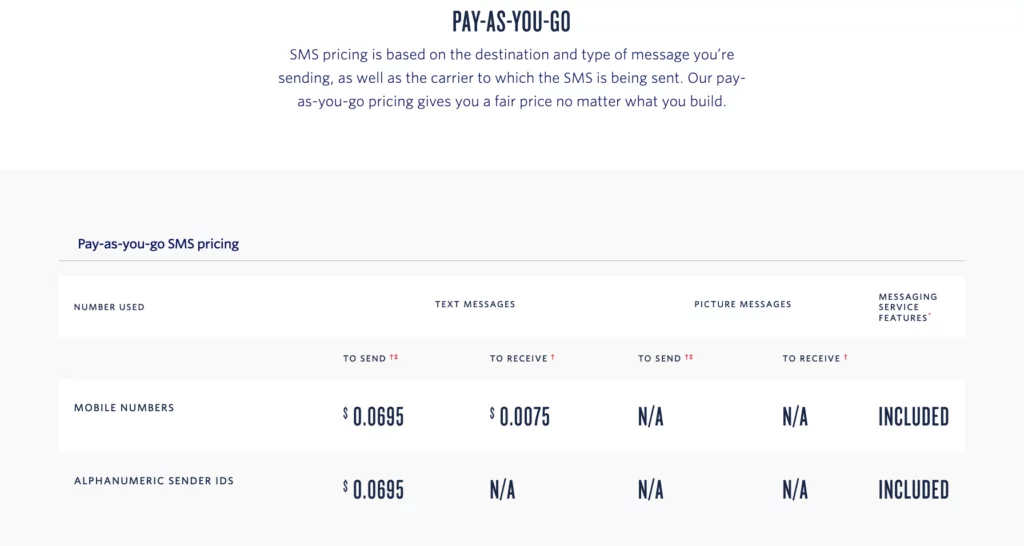 Pros: Extremely Scalable, Improved Retention Performance
Cons: Long-Term Predictability, Can Confuse New Customers
3. Tiered Pricing
Tiered pricing models are also being embraced by modern SaaS businesses today due to the flexibility they offer. These billing and subscription options essentially allow customers to level up after learning more about the product and its benefits. These models are also easier to understand, with businesses often offering between three and four options to minimize confusion and purchase confusion.
The best example for this billing and subscription model is HubSpot, which has become one of the world's leading CMS platforms over the last decade. As you can see below, each tier has its own business and operational benefits.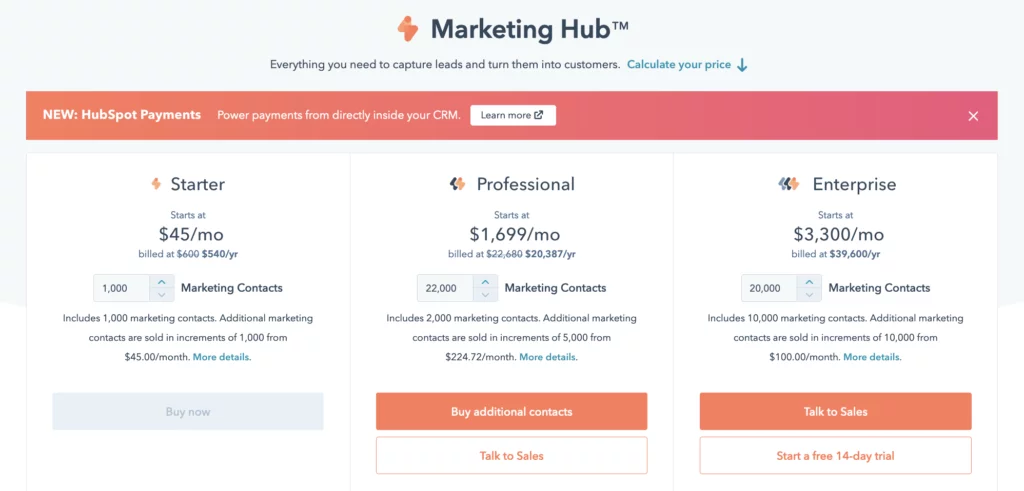 Pros: Empowers Customers, Great for Upselling, Better Conversion RatesCons: Too Many Tiers Can Elevate Confusion, Top-Tier Abuse is Possible
4. Feature-Based Pricing
Feature-based pricing models are a subset of the aforementioned tiered models, with the difference being that the focus is entirely on product features and access to them. This billing and subscription model helps customers avoid over-committing and dropping off. Instead, they can get familiar with the product and upgrade to upper tiers (or bring in more users) once the "aha moment" is reached.
Design and graphics provider Canva is a great example of a successful feature-based pricing model. Small B2B customers or freelancers can use the free model first, before upgrading to Pro or opting for the big Enterprise option.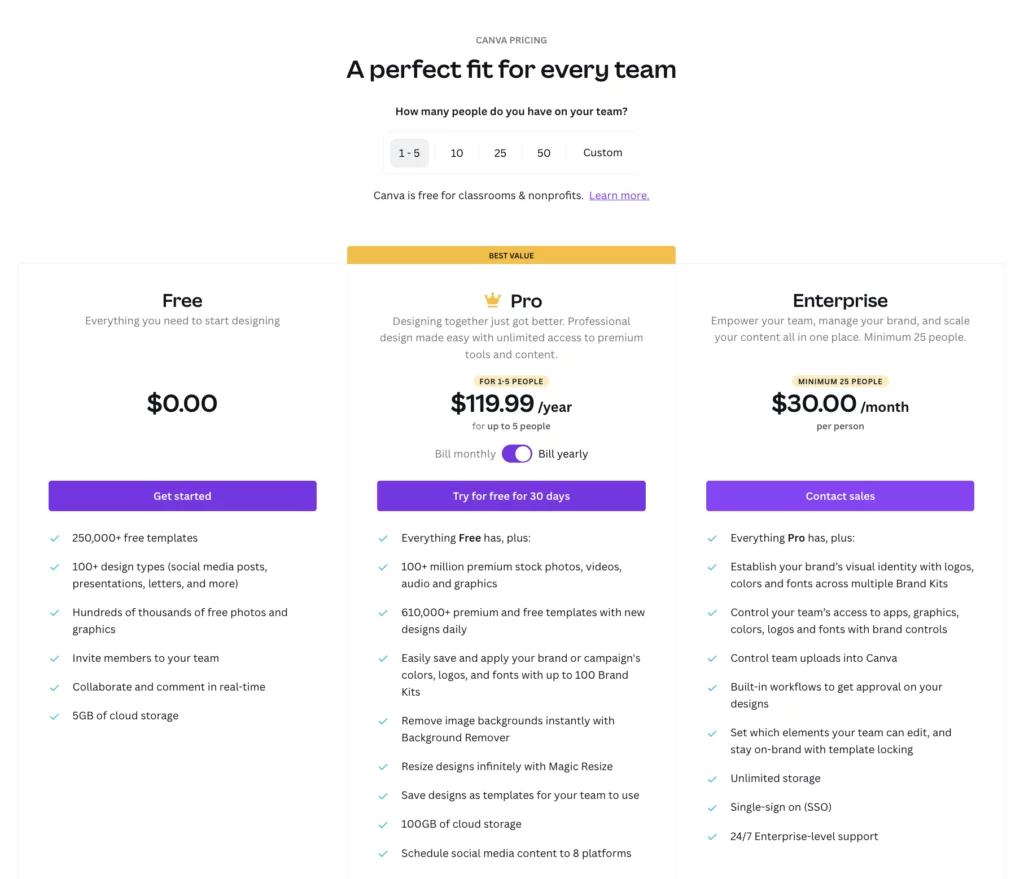 Pros: User Friendly, PLG-Centric, Instant Product Value Demonstration
Cons: Requires Accurate Planning, Aggressive Feature Lock-Outs Can Backfire
5. Per-Seat Pricing
You also have the per-seat pricing model, which is also known as per user billing. As the name suggests, this B2B-centric strategy involves charging customers based on the number of end-users that will be using the product. The more users, the lower the price per user. It's important to mention that per-seat pricing models are mainly being used by enterprise level businesses.
Microsoft is the best example of this billing and subscription model. All Microsoft 365 solutions today are using this pricing model and it's working very well since B2B customers can also implement them fast with minimal hassle.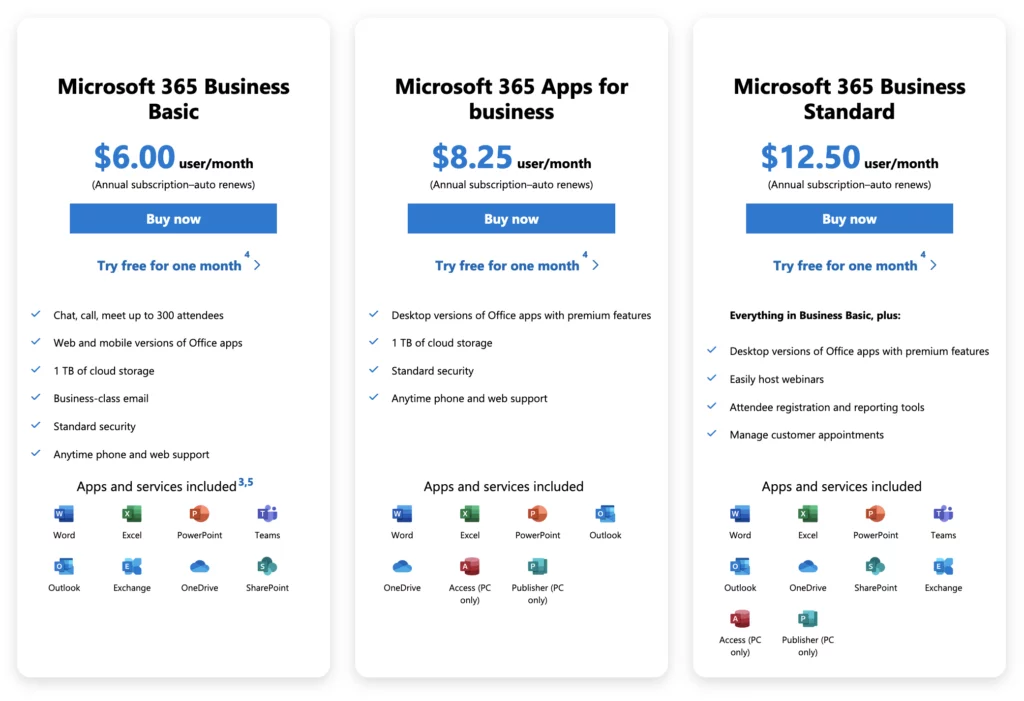 Pros: Easy to Predict Revenue, No Feature Segmentation, Smooth Implementation
Cons: Customers Often Cheat (Login Abuse), High Churn Rates
SaaS Billing and Subscriptions with Frontegg
Frontegg, an end-to-end user management platform, allows you to integrate multiple self-served features to save time and allow your developers to focus on core technology development. One of these features is the billing module, which can allow you to integrate with leading providers like Stripe, all with just a few clicks. We also have your frontend requirements covered.