Knowing your customer is key today. However, it doesn't only mean knowing their names but also relevant details about them. For example, your customer's usage patterns can help you create a better and more customized offering. Analyzing demographics will also improve your targeting and customer experience. As reported by Forbes, 80% of customers are more likely to purchase from your brand if you offer personalized services and experience.
Customer identification is important to fuel operations, marketing, sales, and business operations, but it isn't easy to implement. With security becoming loose online, users are more hesitant to share confidential information (something even as basic as a computer science degree salary). Hence, you should ensure that your consumers feel confident with sharing personal and sensitive data with you.
You want your users and customers to be able to access your ecosystem and all required data safely, while also keeping the user experience as frictionless as possible, without giving up on governance capabilities. This is where CIAM comes in.
What is Customer Identity and Access Management?
CIAM stands for Customer Identity and Access Management. As discussed above, it's essential to know your customer's identity to create a business that can grow without losing control on security and compliance standards. You are now directly responsible to ensure that the information given by your customers will be handled correctly and safe from breaches.
On the other hand, access management refers to how you authenticate your users' information and allow them access to your site. This may include but isn't limited to enforcement, assessment, and optimization of security measures.
With all these ideas in mind, it's easy to see why it's important for any business to know and use CIAM. If you use CIAM, you can assure your users, visitors, and customers that your website is safe, and they'd feel comfortable sharing their personal data and information with you. When implemented correctly, CIAM solutions can help you gain a bird's-eye view of your entire ecosystem.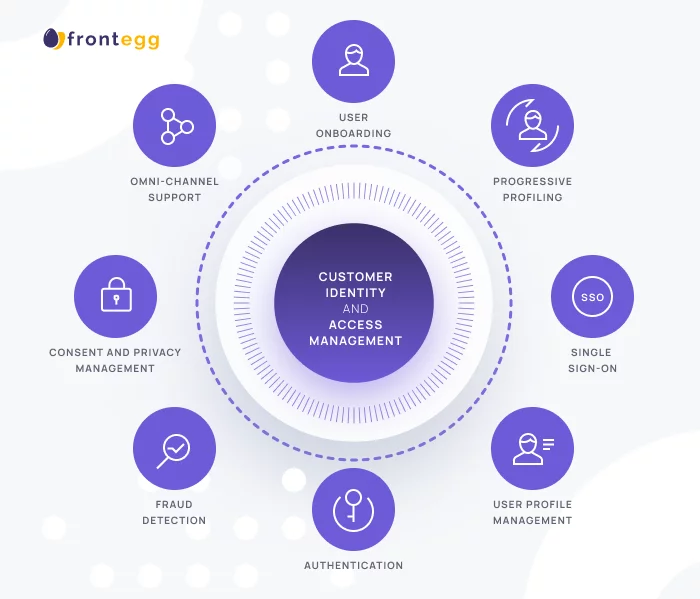 Key Features of CIAM
Here are some important features you can find on any leading CIAM platform today:
Single Sign-On – Gives your customers a consistent experience when logging in across different digital properties. Read more here.
Access Management – Provides each user a role in the system that determines their access to the system and its content.
Authentication – Offers other authentication apart from passwords and usernames, such as social logins, risk-based authentication, and multi-factor authentication (MFA). There has also been a noticeable shift towards the passwordless authentication space, something you should consider.
User Profile Management – Allows admins and customers to define preferences. This space is evolving fast with self-service becoming a mandatory requirement to help businesses thrive in the Product-Led Growth (PLG) era. Read about the 8 pillars of self service in our blog.
Fraud Detection – Uses a fraud detection engine to evaluate risk or fraud and picks the right authentication mechanism to allow (or deny) access.
Consent and Privacy Management – With GDPR and CCPA in full effect, consent and privacy management needs to be done seriously.
CIAM solutions help protect all sensitive data and private information, giving your customers the peace of mind that nothing will be compromised or misused. Here are some key benefits that CIAM implementation brings to your business.
Creating a frictionless customer login experience across apps and platforms, ideally self-served for better in-app freedom and PLG capabilities.
Help prevent fraud and data breaches.
Build customer trust by providing them visibility and control over how their data is used, while also streamlining data flows in the ecosystem.
Enabling self-served portals to access their data across all channels.
Complying with GDPR and other privacy regulations. Not being compliant can prove to be very expensive. Take a look at the British Airways case.
Top 5 CIAM Tools
In this day and age, data and information are the primary drivers of any online business model. As revealed from a study by Radial, 71% of return consumers expect customer service representatives to be already knowledgeable about them since they already had previous interactions. If you're confused about what CIAM solutions to use, here are the top 5 software options on the market today.
1. Frontegg
Frontegg offers dimensional and flexible options, including self-served and customizable user management interface, which is also multi-tenant for design. It's been seen by many as a PLG-friendly option due to its end-to-end coverage.
Other services include:
Complete user management—registration page, admin portal for user/tenants management, and custom data storage.
Immediate and easy integration of multiple applications.
Token-based authentication (API tokens), SAML SSO, audit logs, and advanced webhook features.
Authentication solution for SaaS, with a micro-frontend approach that helps you focus on the product.
Pricing: There's a free option for starters, but pricing climbs up depending on the size of the service. The early stage costs approximately $200 for 50 active tenants.
2. Okta
The company describes its platform as providing "frictionless experiences." If you're deploying to a large number of people, Okta is one of the best CIAM vendors in the market.
Some of its features include:
Allowing your team easy access to your website without sacrificing its safety and integrity.
Customer and user friendly due to its simple interface, single sign-on feature, and easy changing of app positions by a single click or drag and drop method.
App integration and deployment are seamless because the software consolidates all your applications into a one-access platform.
Notification catalog on the sidebar to notify you of all changes in your Okta account.
Pricing: Okta has a $1500 contract minimum, which means they're probably out of reach for most SMBs and micro-businesses.
3. OneLogin
OneLogin is one of the best cloud-based service providers in the market, giving easy access to everyone in your team—developers, employees, managers, and other users—without sacrificing your business' security.
The software grants the following benefits:
Allows users to access countless applications with just one login credential.
Authentication workflows are powered through MFA and RADIUS, establishing VPN tunnels.
Instant and great syncing of contacts through the Active Directory feature.
Two-factor authentication option for added security.
Pricing: Begins at $2-$4/user per month.
4. AuthO
AuthO is an independent product unit within Okta. It boasts flexibility and a robust solution adhering to industry standards.
Some of its best features are:
Highly customizable interface and its features can extend through the use of Javascript codes.
Provides easy and intuitive examples through docs—just a simple copy/paste without complicated modifications.
The Hooks and Rules features provide a seamless authentication workflow. There's support for OpenIDConnect and SAML 2.0.
Easy to write custom extensions and change the login screen's branding.
Pricing: Starts at around $20 for developers. AuthO also offers free trial plans.
5. Microsoft Azure Active Directory
Microsoft is no slacker when it comes to business operations, including CIAM security. Its Azure Active Directory app is ideal for medium to large businesses, and it offers single sign-on and multi-factor authentication.
Other features include:
Conditional access for the protection of business/sensitive data.
Allows the integration of thousands of apps via a single sign-on.
Ease of use—you can access it on any device.
Security and reporting features and deployment automation.
Pricing: 4 options, with the cheapest starting at around $6/user per month.
Choosing the Right CIAM Solution for Your Business
Customer Identity and Access Management has become an essential part of today's SaaS landscape. Powerful authentication flows are now expected by customers and end-users, not to mention self-service capabilities that give them more in-app freedom. The same applies to user onboarding, which is traditionally a big friction point and a major challenge that successful businesses have to overcome.
It doesn't matter if you are implementing it as an end-to-end platform or combining multiple third-parties, CIAM is now driving all applications. We highly recommend considering the aforementioned options to achieve sustainable growth.