Single sign-on (SSO) solutions provide an authentication solution that allows users to enter credentials once and access multiple connected systems. SSO facilitates central access control for IT admins, who can manage authentication via a local SSO server or a third-party provider. Because they provide improved management capabilities, SSO solutions are especially useful for rapidly expanding organizations.
Several types of solutions have single sign-on capabilities today:
SSO is a common feature in identity management (IdM) platforms
SSO is often bundled with multi-factor authentication and other authentication technologies
Some providers offer single sign-on as a standalone solution, either on-premises or hosted in the cloud
Read on to understand how SSO works and discover the key features of modern Single Sign-On solutions. To top it off, we'll also introduce you to the top 8 SSO solutions you need to shortlist today before making your decision.
How Do SSO Logins Work?
Whenever a user logs in to a SSO service, it generates an authentication token to remember the user for future sessions. The authentication token is a piece of digital information stored on a user's browser or the server.
This token grants the user access, via the SSO service, to all applications the user needs to access. When a user wants to sign in, the Single Sign-On service passes the authentication token to the app and allows access without asking them for credentials again. If users are not logged in, the application redirects them to the Single Sign-On service for authentication.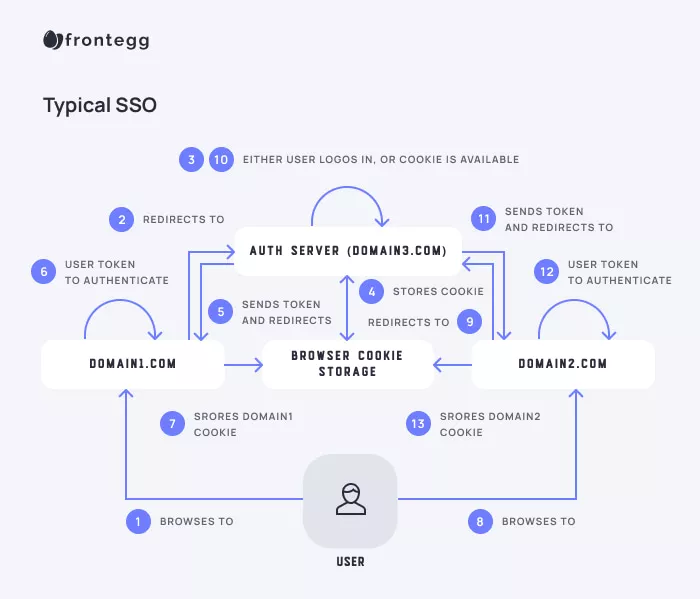 SSO services do not store the user's ID, so they usually are not aware of the identity of specific users. Typically, Single Sign-On services integrate with an identity management service and match a user's credentials to user data stored there. Single Sign-On is an intermediary that can verify that a user's login credentials match their identity without managing the user database itself.
Related: SSO Implementation
7 Key Features Of Modern SSO Solutions
Here are some key features you should look for in a SSO solution:
Customization—an SSO solution should let you customize the end-user experience. You should be able to adapt the login screen to your brand look and feel and have an easy way to turn additional features, like social login or MFA, on and off.
Integrations—an SSO solution should come pre-integrated with common identity providers and social login providers. The solution should also give you an easy way to integrate in-house systems.
Mobile experience—modern Internet users are mobile-first, and SSO solutions should follow suit. Ensure the SSO solution provides a smooth, convenient experience for mobile users on any device or screen size.
Security—a critical feature for SSO. Ensure that SSO encrypts user data, supports MFA to prevent social engineering, and integrates securely with active directory (AD) or LDAP to exchange user data.
Scale—traditional on-premise SSO solutions were difficult to scale up to support more users or additional applications. Modern cloud-based solutions are elastically scalable, letting you support any scale, from hundreds of users to millions.
Support for organizations—some SSO solutions only support end-users directly interacting with the system. If you are a B2B or SaaS company, you need to support an entire organization using their product. Each organization will have its own set of users. Check if the SSO solution provides the ability to manage organizations conveniently.
Uptime—SSO solutions are mission-critical, and if they are down, the applications they support are inaccessible. Opt for cloud-based solutions, where the service provider is responsible for reliability and uptime. Check that the SSO provider provides an acceptable SLA.
Top 8 Single Sign-On Solutions
Frontegg
Frontegg provides a robust SSO solution for B2B and B2C companies with a customer-facing approach. It's fully enterprise-ready, integrates with enterprise IDPs, SAML and OIDC protocols, and includes Social SSO – with a fully embeddable login box. All dev integrations are directly reflected to the end-users, who don't need to engage with support to adopt them.
Frontegg also provides multi-factor authentication (MFA) with granular roles and permissions. This versatility and customizability with self-served features makes Frontegg suitable for PLG-d applications and services.
Key features: Easy SSO integration, self service mechanism, intuitive admin UI, strong support, multi-tenant, customizable customer-facing UI, granular security, ideal for B2B
Pricing: Free forever for up to 5 organizations, Scale package includes 25 organizations for $250/month (Enterprise SSO for $50/org/month)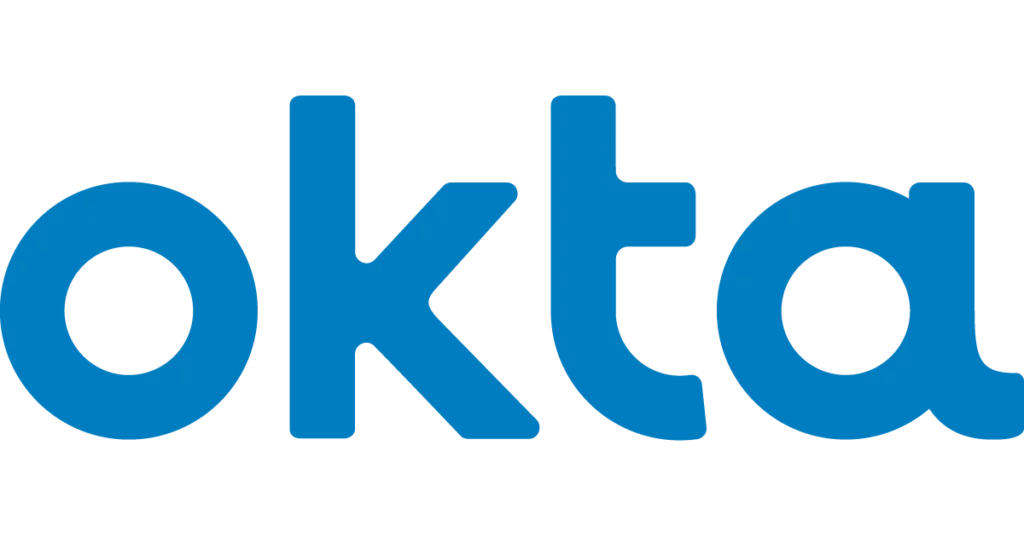 Okta
Okta is a cloud-based authentication solution that can be integrated with your identity systems and with over 4,000 business apps. It offers a scalable platform, enabling organizations to implement authentication for large-scale services. Okta offers one central interface for IT teams to view and manage user access and integrates with AD, LDAP, and HR systems.
Key features: universal directory, multi-factor authentication, identity lifecycle management, API access management, access gateway, advanced server access
Pricing: $2/month/user (Basic), $8/month/user (Ent.) $1500 minimum

JumpCloud
JumpCloud is a cloud-based user directory and authentication service. JumpCloud's Directory-as-a-Service lets organizations grant access to corporate applications through JumpCloud credentials. This lets you set up an SSO workflow for user credentials managed through JumpCloud, using SAML to pass credentials to participating applications.
Key features: Cloud directory, multi-factor authentication, cloud Lightweight Directory Access Protocol (LDAP), access provisioning, server access management
Pricing: Free for the first 10 users; paid plans start at $10/user/month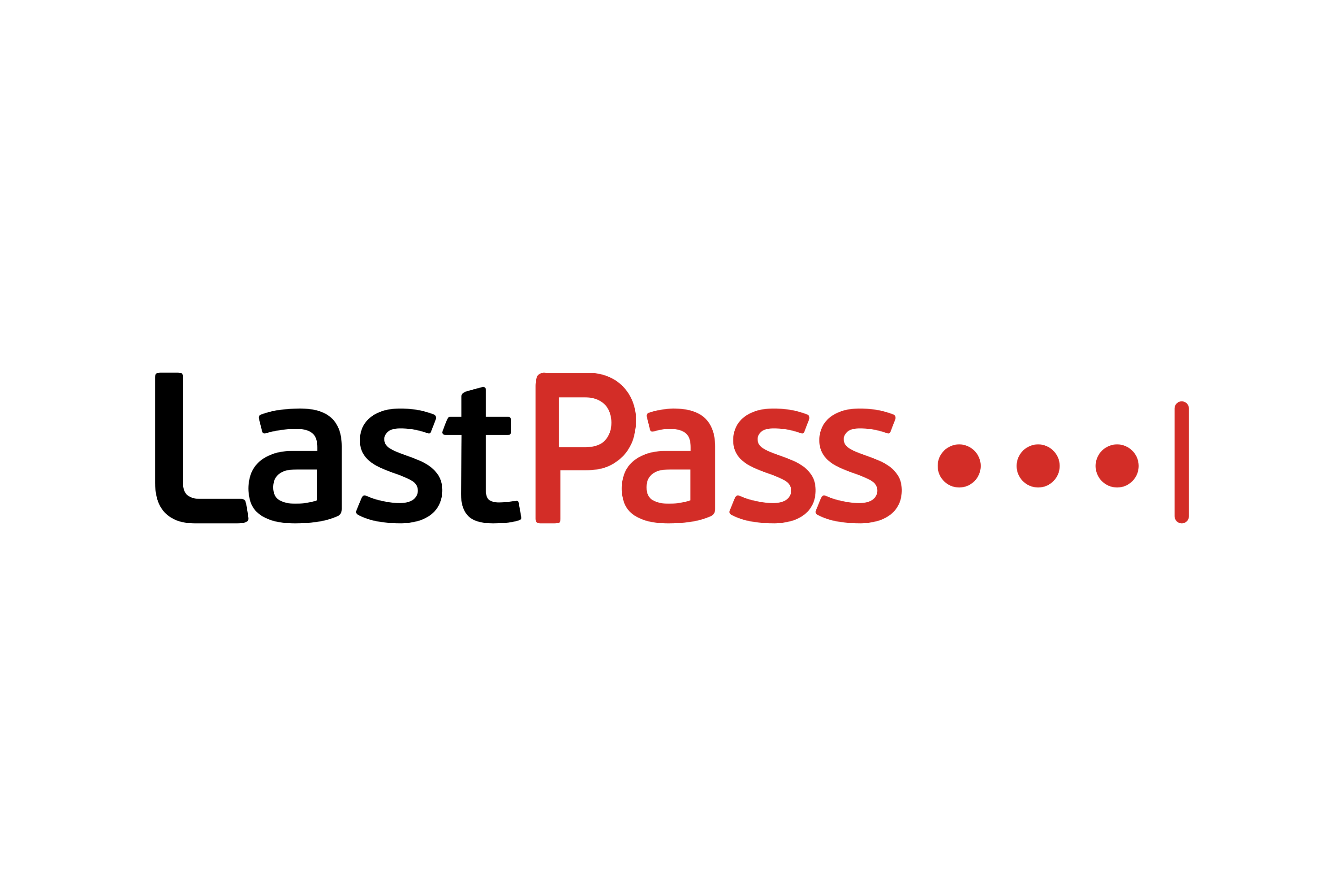 Lastpass Enterprise
Lastpass Enterprise is an identity management solution that includes a password manager, MFA, and single sign-on. Single sign-on is part of the LastPass Enterprise and Identity Services offering, including an admin dashboard, directory integration and password management. Lastpass has a smooth login process and is convenient and easy to learn for administrators.
Key features: directory integrations, multi-factor authentication, API access, password management
Pricing: Starts at $6/user/month
Ping Identity
The Ping Identity platform lets users access any application or service, whether SaaS, on-prem, mobile apps, or APIs. It includes Ping Identity, a central identity service that enables SSO, Multi-Factor Authentication (MFA), passwordless authentication, API security, as well as management and governance of user profiles. It also provides a built-in API gateway.
Key features: Authentication UX, MFA, federation/SAML support (IdP and sp)
Pricing: $3/month/user (including SSO and MFA, 30-day free trial)
Microsoft Azure Active Directory
Azure AD is a cloud-delivered version of Microsoft's Active Directory product. It integrates and synchronizes with on-premises user directories and provides Active Directory Federation Services (AD FS), an SSO solution. Azure AD offers MFA, security monitoring, extensive reporting features, and user provisioning for SaaS. It's great for organizations already using the Azure cloud.
Key features: Centralized governance, third-party integrations, cloud-readiness, end-user UX, and stringent security
Pricing: From $1/user/month, up to $6 for premium
OneLogin
OneLogin provides Secure SSO, a solution that lets you create multifunctional SaaS applications by selecting which functions you want to expose to users. OneLogin enables integration between endpoint devices, allowing users to sign in with one device and continue accessing an application from another device. It also offers a shared login feature for teams.
Key features: Advanced directory, multi-factor and SmartFactor authentication, identity lifecycle management, HR-managed access
Pricing: $2/month/user (Basic), $4/month/user (Advanced Directory)
SecureAuth
SecureAuth also offers an SSO solution for enterprises and SMBs. The solution is cloud-based and provides extensive analytics and management capabilities, providing valuable data that can help improve SaaS products. SecureAuth offers adaptive authentication, a way to customize authentication factors according to the user's risk level, enhancing security.
Key features: Multi-factor authentication, adaptive authentication, single sign-on, 24/7 self-service, ability to deploy the solution on-prem, in the cloud, or in a hybrid model.
Pricing: $1/user/month (5 apps/resources only), $3/user/month (unlimited)
Frontegg: Enabling The Customer-Facing Approach
You need a SSO solution that can be implemented fast, while creating minimal hiccups for the end-users. With most Single Sign-On solutions today, end-users will face roadblocks and will need help from support teams, creating more stress on your developers. Frontegg solves this problem with its robust, versatile, and self-served solution, which can be pushed out with zero friction.
Frontegg also stands out from the competition with its powerful login box that can be customized for literally any use-case, including MFA implementation. But it doesn't end there. You also get a comprehensive admin layer portal, where you can manage all parameters and roles with just a few clicks. This developer-first and proactive solution is helping break all TTM records.
Looking to get started with SSO implementation in your SaaS offering? Self-service and Product-Led Growth should be your top priority today. Pick wisely.